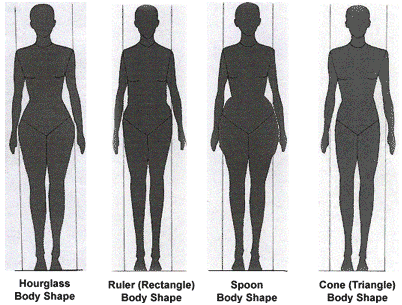 We are defined by our shape. Let's take a look at the various body shapes and how to flatter them. Body types range from top heavy to bottom heavy. To be more specific there are pear shaped women; some with an inverted triangular figure; more rounded figures like that of an American apple; even a rectangular shape. Here are things to consider for the type of shape you have.
Pear Shaped (Bottom Heavy)
You may have the most flattering shape of all as long as you stay away from tight clothing.

Your upper body is noticeably smaller than your lower body.

Dress to accentuate your waist and small top section. If you were to gain weight, most of it would go to your hips and thighs so try to play down big thighs by wearing skirts that taper inward like pencil skirts; or pants that fall straight. Avoid mini skirts and make sure your pants fall more on the hips than at the waist for a better fit. Try tailored jackets that rest above your hips to place less emphasis on the width. Square shaped tops and anything shoulder padded will add some more symmetry to your body.
This shape is characterized by a generous bust, wider rib cage, round or fuller back, generous middle, narrow lower hips, often shapely slender legs. The upside is having great legs that can be shown off. Try to accentuate your small hips by wearing thin belts that blend with your clothes rather than dividing your body into two with a thick belt. Avoid tight tops in order to avoid showing up the mid section and bust area. Go for a deep neckline that will make the neck look longer and a seemingly slender top section. Try tailored skirts that hug your shape and show your legs more than bunched up bottoms that give your shape a funny look.
Hour-glass Shaped
This shape shows that you're very curvy with a clearly defined waist.
If you were to gain weight, it would distribute evenly right to your curves which is great :) Your aim is to emphasize those curves without adding bulk. Aim for clothing with clingy, soft, flowing fabrics that highlight the waist. Wear dresses with an easily identifiable waistline; and straight to flared pants. Don't go too tight but definitely avoid baggy clothing that will make you look bigger then you really are.
Inverted Triangle Figure (Top Heavy)
The aim here is to balance your shape so you don't look top heavy. Achieve an almost hour glass shape by defining the waistline and wearing a darker colour on top to play down the width of your shoulders. On the other hand this simply means avoid clothing with no defined waistline and off the shoulder or strapless clothing. Go for V-neck or U-neck tops with quarter length sleeves. Triangular shapes lack hips so wear more flared items and wear jackets with details that stop at the waist to bring more attention to the hips.
Rectangular (Straight) Shaped
You have a straight figure with slight curves but nothing well defined. Your weight gain would spread evenly. To accentuate your curves you can wear dresses or tops that wrap around the waistline. Give yourself a shapely top half by wearing padded shoulders and continue by adding a slightly flared bottom. Make sure all the clothes you wear are slightly fitted but, quite like for most body types, stay away from tight clothing. You have a boyish shape and want to come off as more feminine.
Body basics for every figure
Wear colors that look great on you. If you aren't sure of what these colours are then get a second opinion from a friend. "Hues that compliment most complexions: pink, blue, white (you'll just need to change the intensity of these colors to suit your coloring, i.e. hot pink for darker skins, carnation for fairer, ivory for olive tones, etc.)"

Experimenting with trends is great once you wear what suits your figure. Then you can concentrate on what flatters, and add up-to-date shoes, handbags and accessories later.
I hope you figure out what works best for you :)

Peace, Love & Blaze,
Afayah
*quoted excerpt from about.com