So I decided I'd put my Christmas wishlist up for the world to see simply because it's fun. I don't actually intend on receiving any of these things (especially the expensive ones). And this isn't just for Christmas but it's my general wishlist. It's the things I dream about sometimes (lol). I just add more things as I go along. Take a look!
1. Opaque stockings/tights.
I swear to you, I can't find any of these in Jamaica and I think that's because of the climate and not having a demand for tights. I can find sheer anything but no opaque stockings *tears*.
2. Vanilla Fields perfume is my ALL TIME FAVOURITE perfume. This is coming from someone who is just getting into fragrances anyway. But this is a perfume I've been wearing since I was a teenager and it's sweet and pretty. I am currently holding on the last few drops of it (for months now actually) because I love it so much and don't want it to run out.
3. The E.l.f. Makeup Brush Set is not only a good brush set to have but it's also cheap! I've only heard good things about this brand like how affordable the items are with amazing quality. So far I own a mini eye shadow palette from them and oil blotting sheets and I got them for dirt cheap! So I have great hopes for their brush set too.
4. An u
pdated denim jacket
is all I ask for (haha no it's not). I have an old school denim jacket but it's really puffy. So I figured I could update.
5. Rayban folding Wayfayer sunglasses. Actually any Wayfarer styled Raybans will do, whether they fold or not. But I think this version is pretty cool because it's so sleek!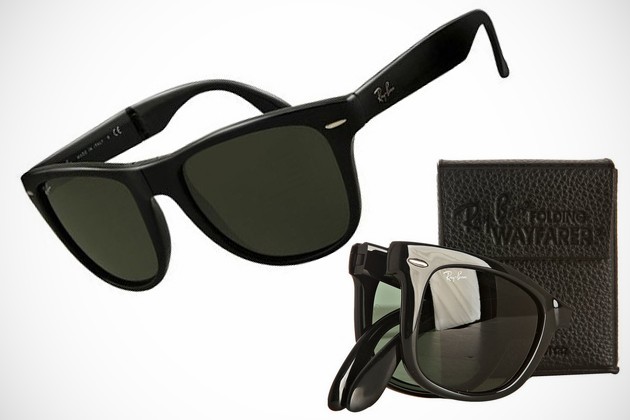 6. A pair of classic black Doc Martens would be LOVELY! I'm a fan of boots and to me Dr. Marten's designs and quality are a cut above the rest. Do you guys like boots?
Do you see a trend here? Everything is getting more expensive as we go along. I promise! This is the last thing :)
7. A chunky gold watch (preferably a Michael Kors lol). My standards are kinda high with this one. I've been totally obsessed with chunky boyfriend watches and I got two from good old Avon. One was silver and the other was faux tortoise shell but I am yet to have a gold watch. Oh, how I dream of the day.
That's all folks. What is on your Christmas (New Years/ Valentine's Day/ Birthday/ Everyday) wishlist? Let me know :)